Contact
The Conference Steering Committee (CSC)
Department of Electrical Engineering Tokyo Metropolitan University (TMU)
1-1, Miami-Ohsawa, Hachioji, 192-0397 Tokyo, Japan
E-mail:info@ilrcnara.jp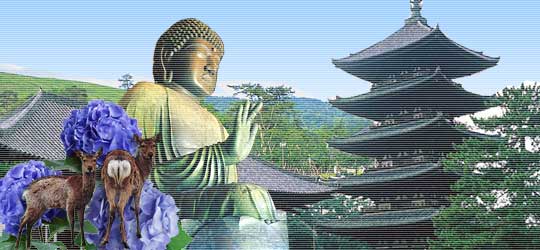 The 23rd International Laser Radar Conference (ILRC23) will be held in Nara City, Japan on July 24th - 28th, 2006.
The International Laser Radar Conference (ILRC) traditionally is the
Conference where scientists and Engineers from all over the world working in the field of laser radar (or lidar) applied to the atmosphere, earth, and
oceans meet together over the years. Since the beginning, the ILRCs have
represented the referring forum for all the scientists where to report new results and developments in the lidar field.
This Conference is held biennially under the auspices of the International
Coordination-group for Laser Atmospheric Studies (ICLAS), of the
International Radiation Commission, International Association of Meteorology and Atmospheric Physics.

Latest program is up-loaded on July 10, 2006.


On-line registration will be closed on July 9, 2006.
Time schedule and tentative program are up-loaded
(June 5, 2006)
Revised schedule is up-loaded (June 5, 2006)
Tentative Program is up-loaded (June 5, 2006)
Exhibitors page is up-loaded. (June 1, 2006)
Sponsors page is up-loaded. (June 1, 2006)
Paper submission deadline is extended to Apr. 14, 2006
(Apr. 01, 2006)

Registration Page is now open!(February 1, 2006)

Papers Submission and Accommodation (Hotel Reservation) Pages are now open! (January. 10, 2006)

Electronic submission of abstract and summary starts
January 10, 2006

| | |
| --- | --- |
| Deadline for Paper | Apr. 14 |

March 31, 2006

| | |
| --- | --- |
| Notification of Paper Acceptance | May 11 |

April 20, 2006

| | |
| --- | --- |
| *Deadline of corrected paper | May 24 |

May 10, 2006
Deadline for early registration
May 31, 2006
*Registration will start from
February 1, 2006
Deadline for Post Deadline Paper
May 31, 2006
Notification of Post Deadline Paper Acceptance
June 10, 2006
*Deadline of corrected Post Deadline paper
June 20, 2006
Deadline for on-line registration
July 09, 2006
The 23rd International Laser Radar Conference (ILRC23)
July 24 - 28, 2006